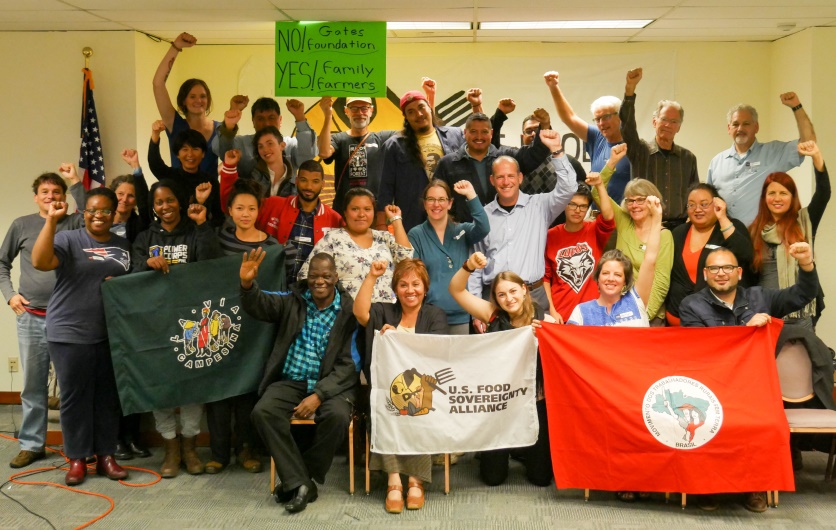 Last week, representatives of over 20 organizations gathered in Seattle and Bellingham for several days of dialogue, action, and celebration of the growing food sovereignty movement. The Encounter, co-hosted by Community Alliance for Global Justice and Community to Community Development, was a national gathering of the US Food Sovereignty Alliance (USFSA). On Saturday, we honored Alliance for Food Sovereignty in Africa and Farmworkers Association of Floridaas recipients of the 8th Annual Food Sovereignty Prize, awarded by the USFSA.
As an alternative to the World Food Prize awarded the same weekend in Iowa, the Food Sovereignty Prize recognizes that transformation of our food system comes from the grassroots, frontlines, and communities building power – not corporate, biotech, and Big Ag industries focused on profit over people and the planet. Coming together for the Prize and events was an opportunity to reflect on strengthening our organizing and advocacy for agroecology, food as a human right, dignity for workers across the food chain, and community-led solutions to hunger and climate change
Roundtable Meetings
With banners and signs reflecting messages of the movement in the center of a circle, folks gathered Wednesday night and Thursday at the WA State Labor Council to discuss the current political moment of the USFSA and the new methodology being proposed for building up grassroots leadership and regional structure in the Alliance.
Continue reading "Report-back on 2016 Food Sovereignty Prize Ceremony and Encounter: Our Seeds of International Solidarity"